The specialist care you need
...to get out of pain and get your life and fitness back on track!
Make an Appointment
Five Dock Physio & Sports Injury Centre
Five Dock Physiotherapy & Sports Injury Centre is focused on providing personalised, professional, holistic health care for all of our clients both in Five Dock and the surrounding suburbs of the Inner West; including Drummoyne, Concord, Burwood, Croydon, Homebush, Abbotsford, Ashfield, Haberfield, Strathfield
Local Physiotherapists Treating Residents In Five Dock, Drummoyne, Concord, Burwood & Surrounding Suburbs
Our physiotherapy staff are highly qualified university graduates, with expert knowledge and skills in the prevention, diagnosis and treatment of injuries and conditions affecting the body such as; back pain, neck pain, headaches, sciatica, shoulder pain, whiplash, knee pain, ankle pain, achilles tendonitis, hip pain and sports injuries. We are highly trained in the analysis of movement and posture, and are experts in hands on treatment and exercise prescription. We also offer specialised Sports Physiotherapy treating all athletes and injuries.
Our Physio Services
Physiotherapy
Our friendly team of physiotherapists provide quality care to the inner west community. We complete a thorough assessment to get to the source of the problem, then work with you to develop a tailored treatment plan to reduce pain and help you get back to everyday activity.
Sports Physiotherapy
Our team of sports physios have a particular interest in the treatment, management and prevention of sporting injuries, working with athletes of all levels and abilities. We provide individualised and specific rehabilitation to resolve your sports injury and prevent recurrence.
Physio Run Clinical Pilates
Our Pilates trained physiotherapists provide a comprehensive initial consultation to understand a patient's current health status, their aims and goals, as well as their level of ability, function and strength. We offer one on one and small group Pilates classes, aimed at improving core stability, strength, muscular endurance, posture and movement quality.
Who We Treat
Five Dock Physiotherapy and Sports Injury Centre treat and care for people of all ages and abilities including:
Recreational & Elite athletes
Young families and children
Seniors of our community
Workers struggling with pain and dysfunction
Those requiring rehabilitation following orthopaedic surgery
We strive to work with you to achieve your goals in the shortest time possible enabling a rapid and safe return to your chosen activities.
Our highly skilled and friendly physiotherapists are passionate about their work, and combined with our first class facilities offer you a level of service and professionalism second to none!
Browse around our site and find out how we can help you! For enquiries, please call 02 9713 2455 or Book An Appointment online.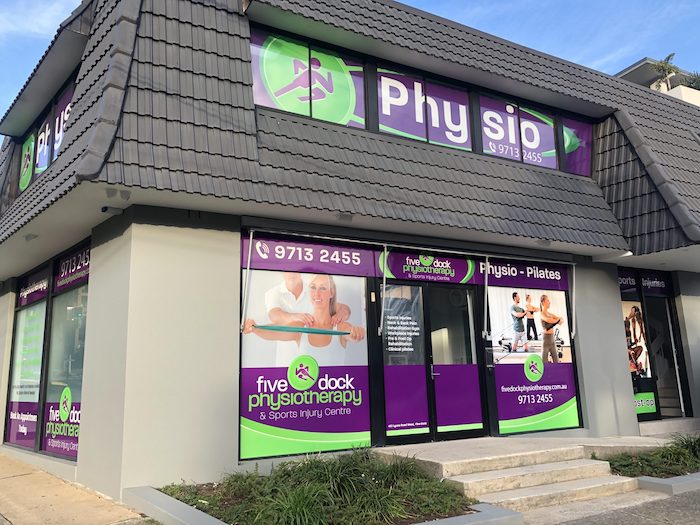 Opening Hours
Below are the opening times for our clinic located at:
451 Lyons Road West Five Dock NSW 2046. Entry on East Street.
Monday (07:00 – 19:30)
Tuesday (07:00 – 19:30)
Wednesday (07:00 – 19:30)
Thursday (07:00 – 19:30)
Friday (07:00 – 18:30)
Saturday (08:00 – 13:00)
Sunday CLOSED
FAQs
Do I need a doctor's referral to book a physio appointment?
No, a referral from a GP is not necessary to book a physio appointment. You can book directly with us online or, if you're not sure what you need, give us a call and our friendly team will be happy to help.
Is physio covered by private health insurance?
Yes, physio is covered by private health insurance. However, it is important to check with your individual insurer to see what level of cover you have and whether there are any restrictions on the type of physio treatment you can receive.
What can I expect from my first physio appointment?
At your first appointment, your physiotherapist will take a comprehensive history and ask about your current symptoms, medical history and any previous injuries or surgery.
They will then conduct a physical examination to assess the cause of your pain or injury. Based on this information, they will develop a treatment plan aimed at reducing your pain and helping you regain normal movement and function.
What techniques do physiotherapists use?
Our physiotherapists use a range of different techniques to treat our patients, depending on their individual needs. These may include manual therapy (such as massage and joint mobilisation), clinical Pilates and exercises prescribed specifically for your condition.
We also use modalities such as heat/cold therapy and ultrasound to help reduce pain and inflammation.
What facilities does your physio clinic have on-site?
Our stand-alone physiotherapy clinic is fitted out with exercise and clinical Pilates equipment for our patients to use as part of their personalised treatment plans. We also have a second clinic located inside the Five Dock Medical Centre, giving us access to x-ray and radiology facilities as well as allowing interaction with other health professionals including GPs and allied health.
How often do I need to see a physio?
How often you see a physiotherapist varies, depending on your condition, goals and the treatment required. During your initial consultation, your physio will complete a detailed analysis of your condition, symptoms and movement to identify the underlying cause of your pain, injury or discomfort.
From this, we will tailor a personalised treatment plan aimed at reducing pain and restoring function as quickly and safely as possible. Your physio will advise on how often you should come in for treatment, as well as any at-home stretching or exercises that may assist.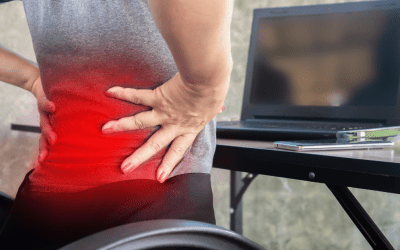 Lower back pain (LBP) is the most common musculoskeletal injury, with 70-90% of the population experiencing LBP at some point in their life (de Luca et al., 2019). Early diagnosis and management is vital, as up to 30% of episodes can become chronic without the...
read more