Physio Run Clinical Pilates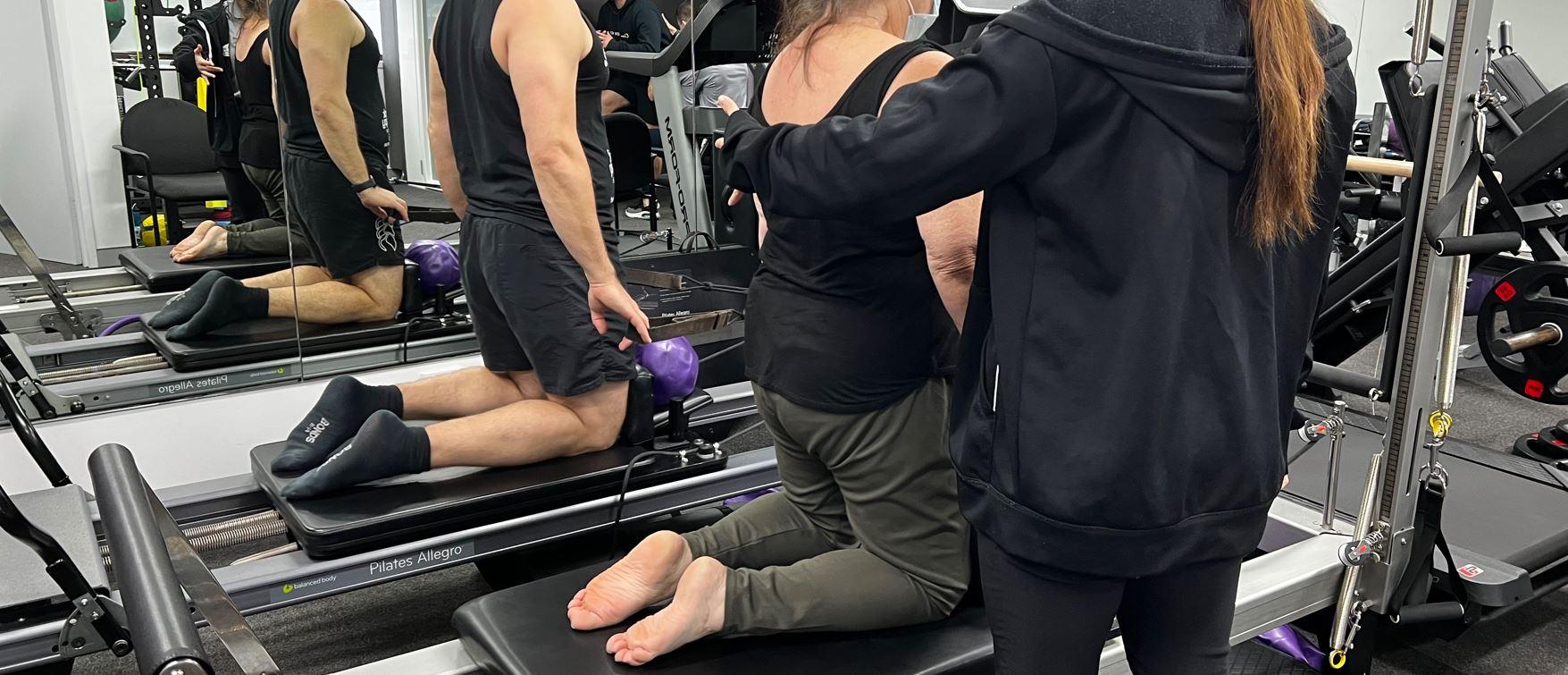 Clinical Pilates is a form of physical exercise that focuses on improving posture, core stability, balance, control, strength, flexibility, and breathing. It's popularity has grown both in the general population but also within the physiotherapy profession as we see some amazing benefits for our clients who undertake this form of rehabilitation. It is low impact, with limited cardio and is suitable for nearly anyone including professional sports people, seniors, pre and post-natal and those undertaking physical rehabilitation as recommended by their doctor.
Pilates aims to connect the mind to the body, to activate a deep level of stabilising muscles. It was designed to help people develop a stable musculoskeletal system and overall give our bodies an improved foundation to move with.
It not only helps us improve our core stability, strength, muscular endurance and posture, but it also helps to improve the quality of movement or movement control. It aims to teach appropriate muscle activation and muscle recruitment needed to do different tasks. Another benefit is that it's low impact, meaning it is gentle on the bones and joints. Pilates exercises should always be pain free and should encourage movement, giving individuals a positive experience in favour of movement.
It's great if you want to:
   Improve core, neck & back strength
  Improve whole body strength & endurance
  Move without pain
  Great to help injury prevention
  Progress/regress to your level of ability
We offer a range of Clinical Pilates Based Consultations and Classes including:
Personalised Clinical Pilates Assessments:
Anyone wishing to start Pilates style training in our clinic need to undergo a Pre-Pilates Assessment, which is a comprehensive initial consultation completed by one of our Pilates Trained Physiotherapists. These assessments allow us to truly understand a patient's current health status as well as their level of ability, function, strength, biomechanics and their goals.
The assessment involves an assessment of overall posture, range of motion, and an analysis of biomechanics and kinetic chain movement patterns and movement quality. Core stability is assessed and The 5 key Elements of Pilates are taught during this consult.
The 5 key elements form the vital building blocks to optimal posture and efficient movement needed for Pilates training. In this assessment our physio's also teach some of the basic key movements/exercises used during Clinical Pilates. Following a Pre-Pilates Assessment, our physiotherapists can identify each patient's limitations and also any key areas that they need to target during further One on One Pilates sessions or during Clinical Pilates classes.
Small Group Physio Run Clinical Pilates Classes
Small group classes are based on deliberate and mindful exercises that require control over your breathing. They are performed on the floor using an exercise or yoga mat and employs controlled breathing during body weight resisted movement to build core strength. Pilates classes involve participants moving between different positions in order to target specific muscle groups in more functional positions. Small equipment such as Pilates rings, small balls, dumbbells, foam rollers and therabands can also be incorporated into the repertoire altering resistance levels. Due to the nature of our classes and the fact that we run small groups only, varying the level of difficulty is easily achieved.
Physio Run one on one sessions
Private and personalised One on one Clinical Pilates sessions are a great way to introduce patients to Pilates especially if they haven't trained before as participants get the physio's undivided attention. Pilates is focused on posture and alignment and often it may only be a small adjustment in movement between doing an exercise right (and therefore effectively) or incorrectly and risking injury, so correct technique is everything. One on One Pilates is great for this.
Not only is it a good place to start but One on One sessions are also fantastic as participants become more advanced. The One on One format encourages a personalised program to be prescribed, allowing the physio to "push the limits" prescribing tougher exercises than might be suitable in a group setting. 
Physio Run Cadillac Reformer Pilates Sessions
Using the Cadillac Reformer in our Pilates Hub, our Pilates Physio's are able to challenge patients with variability, regardless of whether they are currently having treatment and rehabilitation, or whether they are doing Clinical Pilates to improve strength, control, flexibility, posture, or alternatively for training purposes and fitness. Training with the Cadillac Reformer creates a unique and varied exercise environment and is a great way to progress exercise programs.
NEW VIRTUAL PILATES NOW AVAILABLE
Virtual Physio One-on-One Pilates sessions
Get the amazing features of an in-house one-on-one session all from the comfort of your own home using a secure internet video-based program and either your mobile phone, tablet or laptop. Virtual Physio Run One-on-One Pilates sessions are great for injury prevention, injury management and treatment as they provide private and personalised coaching and care. Virtual One on one Clinical Pilates consults are great for people with varying levels of ability as the exercises are tailored to the individual. While one person might be learning how to activate their deep core muscles or doing some rehabilitation work, another client might receive a more advanced program testing out their strength, control, stability or fitness. 
From the comfort of your own home and environment, Virtual Physio Run Pilates Classes are run using a secure internet video-based program and either a mobile phone, tablet or laptop. All you need is some space on the floor (and some space to stand) and you can start to improve your core stability, strength, muscular endurance, flexibility, quality of movement and posture. The Physiotherapists leading the class will give you options for progressing exercises so that you can go at your own pace, and keep healthy and safe.