What is a Lisfranc injury?
Lisfranc (midfoot or tarsometatarsal joint) injuries result when the bones in the midfoot are broken or ligaments that support the midfoot are torn. The severity of the injury can vary from simple to complex, involving many joints and bones in the midfoot.
A Lisfranc injury is often mistaken for a simple sprain, especially if the injury is a result of a straightforward twist and fall. However, injury to the Lisfranc joint is not a simple sprain that should be simply "walked off," it is a severe injury that may take many months to heal and may require surgery to treat.

Unfortunately it is misdiagnosed too often. It is estimated that 1 in 55 000 people per year have a Lisfranc injury, with 20-40% of diagnosis initially missed (Krause, Schmid, & Weber, 2016). According to Feng et al. (2017) if overlooked or not treated correctly, Lisfranc joint injuries frequently result in chronic pain and function loss due to residual ligamentous instability, deformity, or/and arthritis. Osteoporosis may also occur secondary to long‐term antalgic gait and an inability to weight‐bear properly.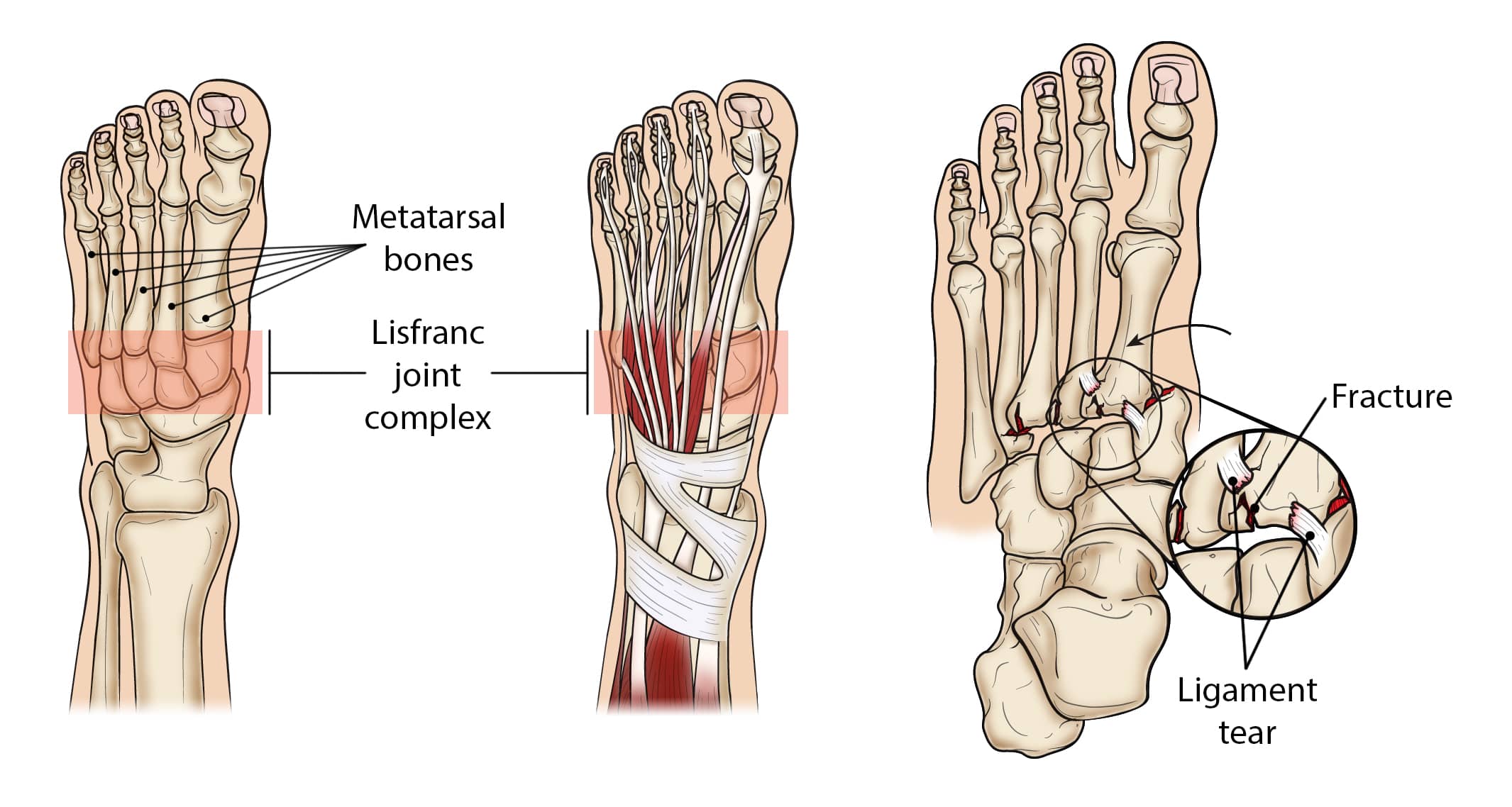 Symptoms can include:
• Pain around midfoot.
• Swelling around the midfoot.
• Difficulty weight-bearing (typically worse on
forefoot weight-bearing such as coming down stairs).
• Bruising under the midfoot.
How does it happen?
Direct injury: Common in the general population. 
Car accident

Falls from a height

Crush injuries

Dropping something on your foot
Indirect injuries: Common in sports such as equestrian or football.
Axial (downward) force through the mid foot whilst on a plantarflexed foot

Twisting movement while on your toes.
When suspecting a Lisfranc injury both a weight-bearing x-ray and MRI are warranted to definitively diagnose it and to determine whether the injury is stable or unstable. Stable Lisfranc injuries are often less severe and either have no fractures or are non-displaced fractures. These injuries are often managed conservatively with a CAM boot and then physio rehabilitation. 
Unstable Lisfranc injuries result in displacement of some or all the tarsometatarsal joints with associated ligament rupture and/or significant fractures. Unstable injures are commonly managed operatively where the bones are fixed with screws, pins, or k-wire to allow for the injury to heal in a stable position. Fusion of this joint is also another operative management option.
Correct diagnosis is imperative for Lisfranc Injuries given the high risk of post-traumatic degenerative changes
Your content goes here. Edit or remove this text inline or in the module Content settings. You can also style every aspect of this content in the module Design settings and even apply custom CSS to this text in the module Advanced settings.
Surgical Approach
Surgery is typically recommended for all injuries with a fracture in the joints of the midfoot or with abnormal positioning (subluxation) of the joints. The goal of surgical treatment is to realign the joints and return the broken (fractured) bone fragments to a normal position, via Internal fixation. Delaying surgical treatment if needed is associated with poor functional outcomes (Welck, Zinchenko, & Rudge, 2014). In this procedure, the bones are positioned correctly (reduced) and held in place with plates or screws. Because the plates or screws will be placed across joints that normally have some motion, some or all this hardware may be removed typically around the 8 week post-op mark however this is at the surgeon's discretion.
The healing process after Lisfranc surgery is a lengthy one and does vary between surgeons and their protocols. For a period of six to eight weeks one will often have to wear a cast or CAM-boot and be non weight bearing. This is then followed by several more weeks of limited weight-bearing in the CAM boot where rehabilitation will begin.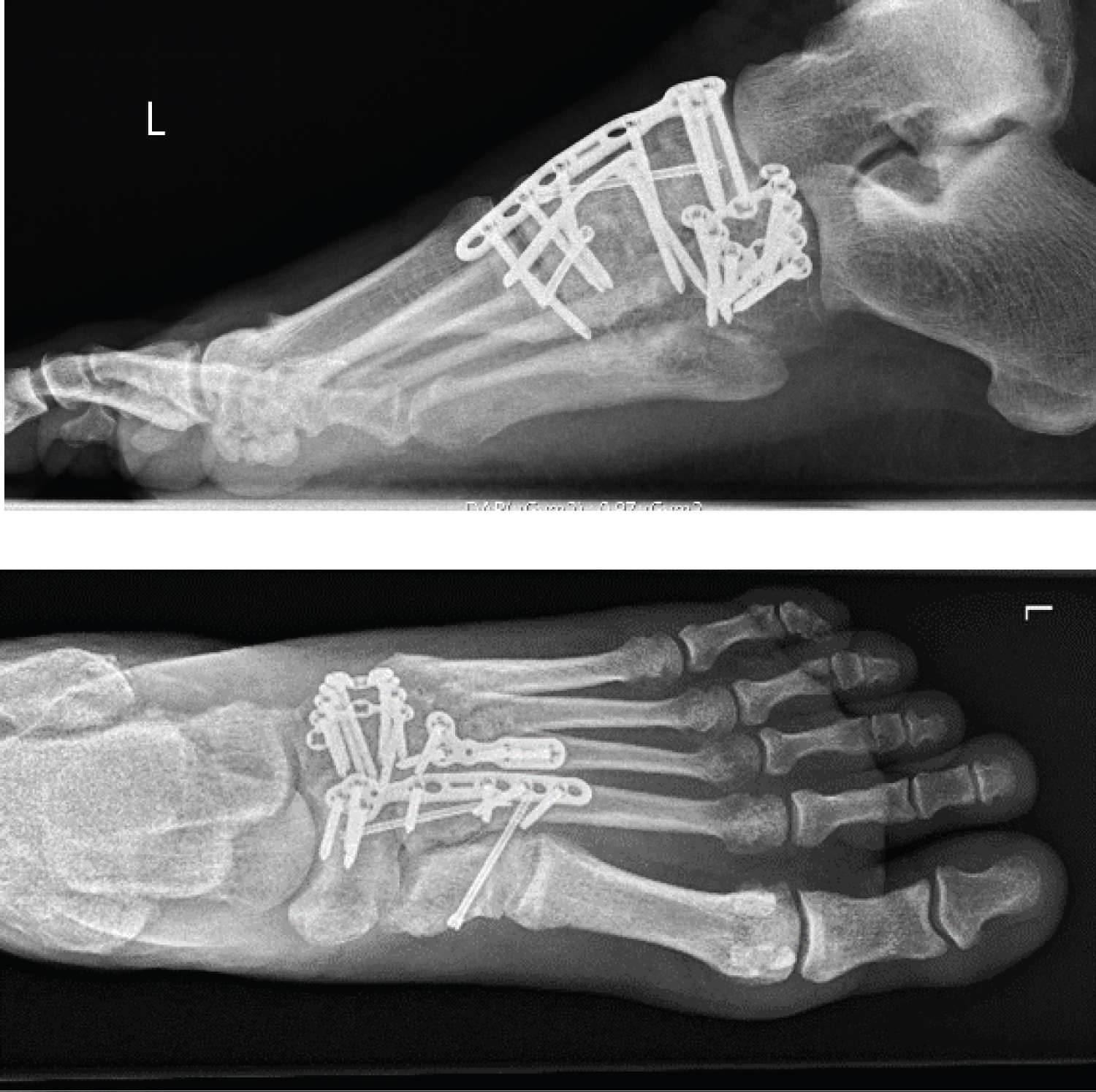 Conservative Approach
If there are no fractures or dislocations in the joint and the ligaments are not completely torn, nonsurgical management may be warranted. A nonsurgical treatment plan includes wearing a non-weightbearing cast or boot for 6 weeks. You must be very strict about not putting weight on your injured foot during this period. This then progresses to weightbearing in a removable brace or an orthotic as physio rehabilitation commences.
How can Physiotherapy help?
If a Lisfranc fracture is suspected at the initial assessment, our physio's will arrange an x-ray and then MRI scan if indicated. If a fracture or dislocation is confirmed, we will liaise with an orthopaedic surgeon and the patient's GP for their opinion on appropriate management, which typically involves applying immobilisation in a CAM boot and provide crutches. Depending on the severity of the injury determined by the findings on both scan's and physical examination, the medical team will decide whether surgical or non-operative management is required.
Depending on the management required, the commencement of physiotherapy rehabilitation will vary. When immobilised in a CAM boot, typically physiotherapists are asked to prescribe exercises for the other muscles in the leg so that excessive atrophy (wasting) doesn't occur. Exercises at this stage often target core control, gluteal stability, and strengthening to the muscles of the upper leg and thigh.
Once weight bearing can commence, rehabilitation is targeted around gait retraining, strength training, restoring joint movement, improving flexibility, and balance and proprioception training. Soft tissue and joint mobilisation techniques are vital at this stage to restore movement and function, specifically a normalised gait. Education on appropriate activity/load management and modification is critical as weight bearing begins, but also throughout rehabilitation. Examination and strategies to address the kinetic chain, joint/muscle deficiencies and analysing gait, all play a key role in improving symptoms, function and a safe return to sport or activity. Our team of physios are experienced in developing individualised rehabilitation programs that will correct poor biomechanics, increase strength/endurance/muscle activation patterns, restore movement, and prevent a recurrence of injuries or reduce the chance of other issues arising due to compensatory movement patterns, especially if surgery has been performed.
Primarily these programs address calf/soleus/tibialis posterior strength, intrinsic foot control, core and gluteal stability, general lower limb strengthening and progress towards functional training such as hopping and running drills. Integral to rehab is the safe return to specific sport/activity and our physios are best placed to lead a graded return to activity plan including the use of running programs, helping reduce the risk of re-injury and subsequent issues. Physiotherapy is critical following Lisfranc Injuries for exercise prescription and guidance, improving functional ability and improving patient satisfaction (Boom et al, 2022).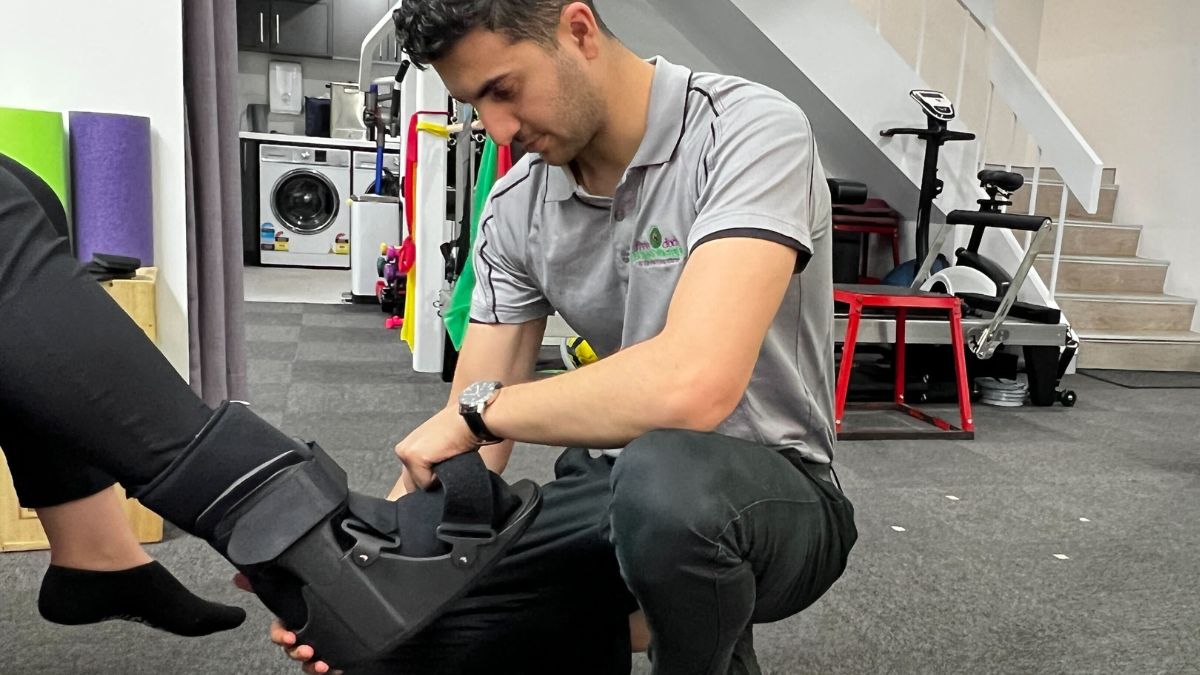 Do you know someone who could benefit from Physiotherapy Treatment or Clinical Pilates?
Please contact us on 9713 2455 and our team will be happy to help with any questions you may have.